Ambition's Debt launches Kickstarter Campaign!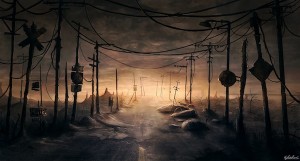 "I am very pleased to announce the launch of our official Kickstarter Campaign to fund the feature film project, AMBITION'S DEBT! This is where it get's interesting and things move into high gear. Check it out and the great rewards being offered. Help us spread the word and bring this project to life."
— Devin E. Haqq, actor/ director/ producer, Ambition's Debt.
The Story:
Set against the backdrop of a post-apocalyptic world, the story follows the downfall of Rome's most honored citizen, Marcus Brutus, as he conspires to assassinate Julius Caesar in order to forestall tyranny and preserve democracy.
The Production:
The vision is to secure some sort of large Industrial Warehouse/Factory type space, probably in Brooklyn or Queens, and shoot the entire film inside this facility. Our production designer will create a set that can be manipulated to represent the various locations of the story. To that end, lighting and sound design will be key in setting the tone and establishing locations. The point won't be to hide the fact that we are in a warehouse, but rather embrace it as the stage for our "play".
Check us out on Kickstarter to learn more and like us on Facebook for all the latest updates.